Belated Birthday wishes...
September and October are birthday months for many P.I.C. members. However, it appears that someone at P.I.C. Toons studios has failed to post birthday well-wishes on the P.I.C. News blog! Happy birthday to all! Sorry for the belatedness…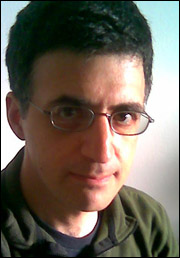 Above photo: P.I.C. member, Martin.
It was Martin's birthday on September 26th. Happy Birthday, buddy! Stop by Martin's website to see some cool artwork:
http://martinschneebalg.com/illustration/
.
Above photo: Heather at the Wax Museum in Las Vegas.
Heather's birthday occured on October 4th. Happy Birthday, Heather!
Stop by Heather's website to see some awesome artwork!
Above photo: Bucky being interviewed by ABC News. 1990's.
Bucky's birthday came and went on October 10th. Happy Birthday, Bucky!
Stop by Bucky's website to see some excellent artwork!
Mr. Cullum's birthday happened on October 13th. Happy Birthday!
Above photos: Mr. Cullum during his bachelor party. As memory serves, Mr. Cullum was playing a game where he had to guess the alcoholic contents from each shot glass. If he could not, then he had to drink another shot and guess again. What deranged mind could have thought of such a devious drinking game? April 1993.
Labels: P.I.C.