Some more "Five Bucks" Bill news…
Below are photos with descriptions sent by Bill…
Here are shots of me…
My daughter (Sarah) in a more respectable pose…
A photo (Mother and Child)…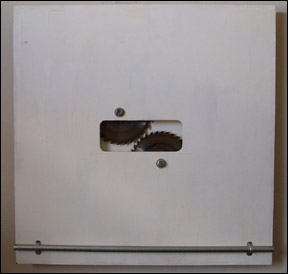 An assemblage (personal injury)…
And another assemblage in progress (with video in the head).
Here's a pic from my job. I was evaluating child safety seats with airbags after a child was killed.
Apparently, "Five Bucks" Bill was at Sloane House for two years (School years 1985-86 and 1986-87). Here's some further comments from Bill:
Yeah. I can't recall why we wouldn't have seen each other as much as the first year. I remember Sean living in someone else's studio that second year- but other than that and working at Radio City the second year is a blur. I remember throwing up in the bathroom after chocolate chip ice cream and schnapps...that was definitely the first year though. And I threw that TV into the pit- but I think that was the first year too. Most of the stuff I remember was from the first year with you guys. Anyway it sounds like you did some great things with PIC. Did all of you guys stay the full four years? -Bill
Labels: P.I.C.