Comics buzz…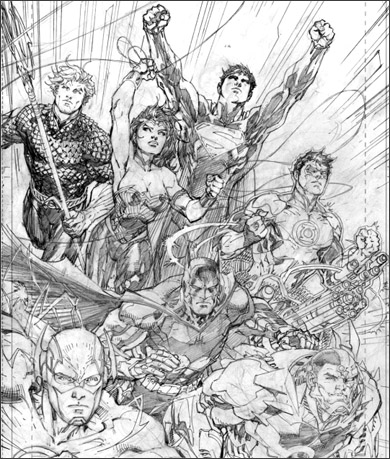 Above: Jim Lee's pencils to the cover of JUSTICE LEAGUE #1.
Yeah, I like to draw comics, but I like to read them, too.
DC Comics is all the buzz lately. In September, DC will be relaunching their super-hero line of comics with new number one issues. Renumbering titles back to "#1" isn't new news in comics. Marvel Comics likes to do this, as well. But, what folks are wondering is… will DC reboot the continuity of their super-hero books? Remember CRISIS ON INFINITE EARTHS? Does anyone really care? Is this just a bunch of hype to sell comics? What really sells comics are good stories and good artwork. Hyping a product that is nothing but hype creates jaded readers. For me, I really don't care. I've given up on DC several years ago.
Above: Alan Davis' cover to AVENGERS #13.
Speaking of Marvel, I did pick up AVENGERS #13. I don't really read much of Marvel's books now-a-days. (The Spider-Man retcon and the $3.99 cover prices were a huge factor in that decision.) Still, AVENGERS #13 was a fun comic. Alan Davis' cover and Chris Bachalo's excellent artwork really caught my attention. Brian Michael Bendis did a wonderful job with the characters. His Avengers remind me of the Avengers that I enjoyed as a young reader. There were no fights in AVENGERS #13. No world-saving. But, the Red Hulk did eat raw eggs.
Above: Steve Rude's Nexus.
Steve Rude has been thinking about coming back to comics. Quote from an e-mail by The Dude:
One month ago, I began my contact with DC through an editor that I knew. Having no success, I tried a second editor. Then finally, one of the higher-up "exec" types.

So far, one editor has responded--with a polite turn down. The two others I never heard back from.

Interesting world, isn't it?
Personally, I think Mr. Rude should forget about DC Comics and bring back NEXUS!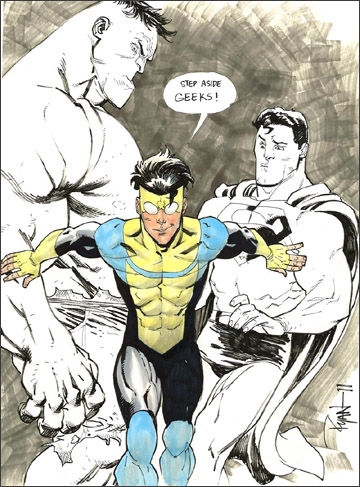 Above: Sketch by Ryan Ottley of Invincible and two "geeks."
And there was some shocking news in INVINCIBLE #79. I don't know how I feel about this news, though. Still, if you like reading super-hero comics, but are tired of retcons, reboots, and renumbering, then you won't be disappointed with INVINCIBLE, "the best super-hero comic book in the universe."
Labels: Comics, Reviews, Steve Rude