ARCHIE & FRIENDS #118...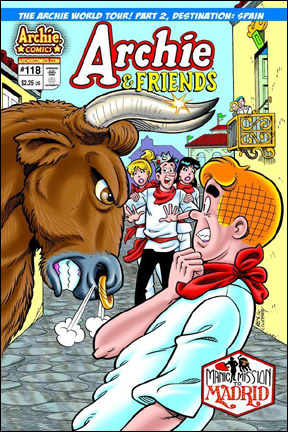 Above: Cover to ARCHIE AND FRIENDS #118.
ARCHIE AND FRIENDS #118 should be in comic book stores today. As I mentioned before, I inked six pages in this issue. Again, I don't always know where the stories I ink for Archie Comics end up. So, in this case, I'm glad I can let folks know ahead of time. It looks like I'll be inking parts of ARCHIE AND FRIENDS for a while (as I continue to ink various stories for the Archie digest books; and, as rumor has it, maybe ink some of SONIC X). I inked the first half of issue #119, and I'm waiting for the pencilled pages to issue #120 to ink. I love inking Rex Lindsey's pencils. So, I'm having a great time with ARCHIE AND FRIENDS.
Above: Panel from ARCHIE AND FRIENDS #118. Pencils by Rex Lindsey and inks by Al Nickerson.
Labels: Comics