(Not the Karate Kid) Ralph Macchio exits Marvel editorial…
Above photo (left to right): John Byrne, George Perez, and Ralph Macchio in 1978.
Digital Spy is reporting that Marvel editor, Ralph Macchio, is leaving his editorial position at Marvel:
The publisher's editor-in-chief Axel Alonso told CBR that Macchio is stepping down, but informed fans that they can expect to see him return to writing in the future.

"After 35 years of distinctive service, senior editor Ralph Macchio is retiring," he said. "Ralph's a living legend who's edited some of the most important titles we've ever published - from Frank Miller's DAREDEVIL to Walter Simonson's THOR to the early 'Ultimate' line to the Stephen King series.

"He's also one of the world's true gentlemen - and I mean that from the bottom of my heart - and a master impersonator whose 'Tom Brevoort' has to be seen to be believed. While Ralph's closing the door on his editing work, he's opening the door to another - expect to see him back behind the writer's desk, soon."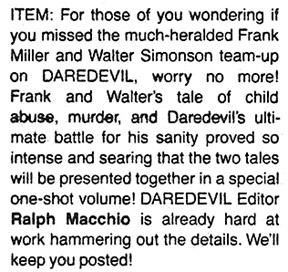 Above: A 1980s editorial clipping from MARVEL AGE.
I never got to work with Ralph Macchio, but I always wanted to. Ralph was (and is) one of the nice guys at Marvel. He made Marvel comics feel like Marvel Comics.
Labels: Comics