Solly Sol's baby news!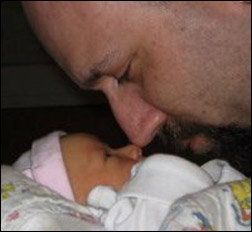 Above photo: P.I.C. friend, Solly Sol, with his new little bundle of joy, Naomi.
Congratulations to Solly Sol and Carol on the birth of their daughter, Naomi! This is indeed a blessing. I received the following message from Sol:
I be a happy pappy! Her name is Naomi Elizabeth Kleit and she was born last Friday, Feb 20. Here is a photo of us leaving the hospital with her. She had to stay a couple of extra days because of jaundice.
Above photo: Solly Sol, Carol, and baby Naomi.
Labels: P.I.C.