Khaaan!!!
Yesterday, I attended the 2009 New York Comic Con at the Jacob Javits Center in New York City. I met with friends, colleagues, and editorial bosses. And I ended up having some new sketches added to my sketchbook. As usual, the con was the spectacularly huge, and crowded, event that wore my feet out.
Above photo: The New York Comic Con… crowed, as always.
I first saw my Archie Comics editor, Michael Pellerito, roaming the convention floor. We headed over to the Archie Comics booth where I said hello to my other boss, Archie Comics Editor-in-Chief, Victor Gorelick.
I headed over to the Kids Love Comics table to chat with my pal John Gallagher (of BUZZBOY fame) and Rich Faber. John gave me a signed copy of BUZZBOY: SIDEKICKS RULE! #3. Man, I really dig Buzzboy.
I said "Hello" to John Morrow at the TwoMorrows table. TwoMorrows publishes BACK ISSUE magazine… if ya don't already know. There was another fella at the table scanning original Jack Kirby artwork. He yelled out to me: "Is Kornstein coming to the convention?" The fella was referring to my friend Michael Kornstein. I was taken a little bit off-guard because I didn't recognize who this crazy person was… until I realized that it was Randy Hoppe. Randy works for the Jack Kirby Museum & Research Center. I haven't met up with Randy in years. So, it was nice to see him again.
Above photo: Artist Alley.
Over in Artist Alley, I talked with DONDI cartoonist, Irwin Hasen. Irwin was once an instructor of mine during my college days at the School of Visual Arts. I talk with Irwin at every con, but he still doesn't remember me as a student… well, that WAS a long time ago.
My hero, Joe Staton, gave me two copies of E-MAN: CURSE OF THE IDOL… which I absolutely enjoyed! I love anything that includes E-Man. Joe is truly "The Nicest Guy in Comics."
I saw Colleen Doran who was starting to feel icky from the stinky New York smogfest that passes for air. Hopefully, Colleen will be feeling better soon.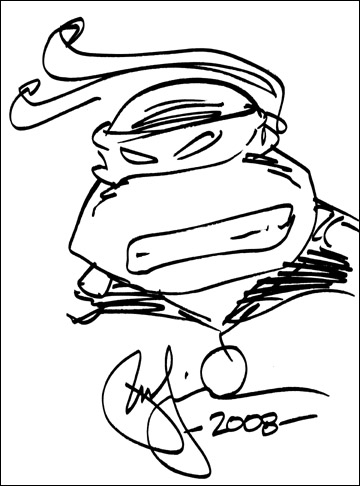 Above: A Teenage Mutant Ninja Turtle sketch by Peter Laird.
I met Peter Laird for the first time. I had once interviewed Peter (and fellow TEENAGE MUTANT NINJA TURTLES creator, Kevin Eastman) for BACK ISSUE magazine. I still love those early TMNT comics! Thankfully, Mirage Studios is working on bringing those comics back into print. Yay!
Finally, in Artist Alley, I talked with fellow Archie Comics artist, Dan Parent. It's always great to see Dan.
I am a huge fan of Terry Moore's STRANGERS IN PARADISE. So, I was very pleased to have met Terry for the very first time. Terry and I discussed tools of the trade as I looked through some of his original artwork from SIP and ECHO. Terry does such an excellent job with his inking.
Neal Adams told me that he has put his graphic novel, BLOOD, on hold to work on a series of BATMAN graphic novels… scripted by Frank Miller. I might have to pick those up. Although, I would prefer to see more of Neal's creator-owned work like BLOOD. But, Neal said that fans would rather see him draw Batman.
Above photo: See… chicks do attend comic book conventions.
After a few hours of roaming around, I had seen all that had to be seen at the 2009 New York Comic Con. I, then, made quick haste to exit the convention before the floodgates were opened to the civilian masses.
Labels: Comics, Con, Jack Kirby