Viacom buys the TMNT!?!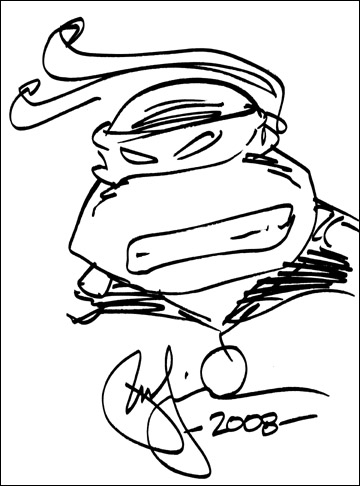 Above: A Teenage Mutant Ninja Turtle sketch by Peter Laird.
There are reports that Mirage Studios has sold the Teenage Mutant Ninja Turtles to Viacom for $60 million!
According to his blog
, TMNT co-creator Peter Laird had this to say:
It's not a rumor -- they now own the TMNT.
and...
No, I didn't sell Mirage. I sold the TMNT property.
Viacom.com states:
Furthering its mission to provide premium content to its audiences, Nickelodeon--part of MTV Networks, a division of Viacom Inc. (NYSE: VIA, VIA.B)--has acquired the global rights to the Teenage Mutant Ninja Turtles from The Mirage Group and 4Kids Entertainment, Inc. (NYSE: KDE). The acquisition provides Nickelodeon, the world's number-one entertainment brand for kids, global intellectual property rights to Teenage Mutant Ninja Turtles, the hit television, film and video game property that has delighted kids around the world for the last 25 years. The aggregate purchase price for the transactions is approximately $60 million.
Peter Laird blogs in more detail:
First, why did I sell the TMNT? There are a number of reasons, but first and foremost is that I have been doing this TMNT thing for twenty-five years, sixteen of them in partnership with TMNT co-creator Kevin Eastman and the last nine as sole owner of the property. That is a long time. It is almost half my life (I'm 55). I never expected to be working on the same thing for this long. And it has worn me down. I am no longer that guy who carries his sketchbook around with him and draws in it every chance he gets. That guy did all of the pre-TMNT artwork you have been seeing on this blog in many of my "Blast from the Past" posts.
Steve Bissette shares his insights on this topic:
Still, my advice to all creative individuals: in an era when ownership of copyright and creative concepts is more vital than ever, don't buy the 'party line' that your work is worthless and you should transfer or sell your copyrights on new work (cut bait and sell it out before its born). Monolithic as these events seem, they reaffirm the coin of the realm are the unique expressions of ideas — the very bundle of rights copyright protects — and the value latent in the expression of ideas via cartoons, comics and drawing.
Labels: Comics