Gene Colan injured…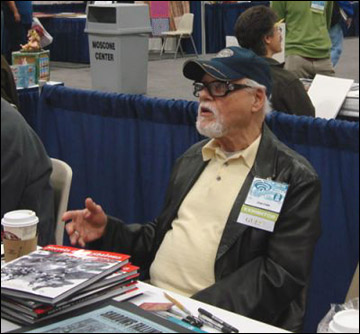 Above photo: Comic book artist and former SVA teacher, Gene Colan.
Clifford Meth is reporting
that legendary cartoonist and former School of Visual Arts instructor, Gene Colan, has been injured:
Gene was injured last week and is now being cared for by his son and daughter. In addition, it appears that some of Gene's artwork has disappeared, including pages from Nathanial Dusk and a Star Wars-related piece. The police are involved in the matter.
Above photo: Taken in a classroom at the School of Visual Arts. (Left to right) Mitch and (comic book legend and SVA instructor) Gene Colan. School year 1986-1987.
Update:
The Beat
is reporting that Gene Colan was injured in his home, but that he was not mugged as first reported. Details are sketchy. I'm not sure if we'll learn the whole story, and if this is indeed a private matter, then we shouldn't. Please keep Gene in your prayers.
From
The Beat
:
I've been contacted by a reliable source stating that this is not the case. Colan was indeed injured in his house and art is missing, but it is not part of a mugging. Details of the injury and missing artwork are being kept vague to respect the Colan family's privacy.

Colan is home and recuperating and expected to recover from the injury.