Who owns Sonic?
Above: Cover to SONIC SUPER SPECIAL #7.
I once inked a SONIC X issue for Archie Comics. Issue #34, in fact. That was kinda fun.
But, here's something that might not be so much fun for some people…
Apparently, Ken Penders is claiming ownership of stories and characters that he penciled and wrote while working on SONIC THE HEDGEHOG. As he tells it, Penders never signed a work-made-for-hire contact with Archie Comics.
From Ken Penders:
That means anyone seeking to use my characters, concepts and stories that were published in the pages of SONIC THE HEDGEHOG, various SONIC 48-page specials, various issues of SONIC SUPER SPECIALS, the PRINCESS SALLY mini-series, the SONIC'S FRIENDLY NEMESIS KNUCKLES mini-series, KNUCKLES THE DARK LEGION and the KNUCKLES THE ECHIDNA series, must first contact me for permission and to make arrangements for the use of this material.
It'll be interesting to see how this all turns out in regards to Creator's Rights in the comics industry.
Thanks go out to
Rich Johnston and Bleeding Cool
for bringing this to everyone's attention.
Check out
"Comics and Work-Made-for-Hire: Creator's Rights"
for additional information on work-made-for-hire.
For more information regarding comic book Creator's Rights, stop by
Ya Can't Erase Ink
and
the Creator's Rights forum
.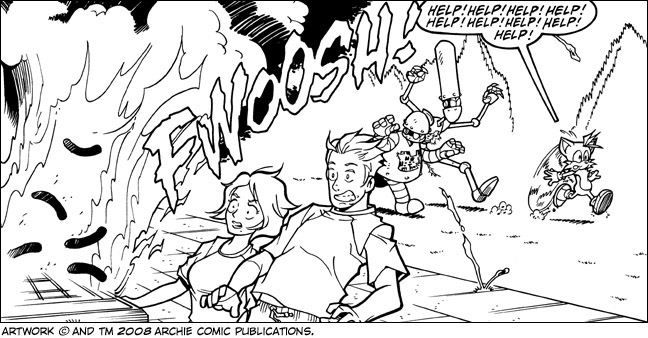 Above: Artwork from SONIC X #34 by (penciler) David Hutchison and (inker) myself.
Update:
Robot 6 is reporting feedback from Archie Comics' Managing Editor, Mike Pellerito:
We have been in contact with our legal team and the claims by Ken Penders are completely false. We will be responding through proper legal channels.
Labels: Comics, Creator's Rights, Ken Penders