Invincible meets the Tick?
Above: Les Mcclaine's cover artwork for THE TICK NEW SERIES #1.
Invincible meets the Tick? Could be…
From theouthousers.com:
THE TICK #100

THE TICK MEETS INVINCIBLE!

We celebrate the 100th issue of The Tick with a 48-page full-color blockbuster co-starring Robert Kirkman's INVINCIBLE! In a full-length 24-page epic, Invincible is transported to The Tick's Universe where the two mighty heroes confront the combined threat of the master criminal Chairface Chippendale and a mysterious and menacing new villain who makes even Chairface look like an ordinary umbrella stand! A story so awesome that it requires two planets (and at least one moon!) to contain it! Added bonus: THE SAGA OF THE TICK, a 20-page full-color history of The Tick's illustrious career, heavily illustrated with covers and selected artwork from all 99 previous issues of THE TICK!

Writer: Benito Cereno Artist: Les McClaine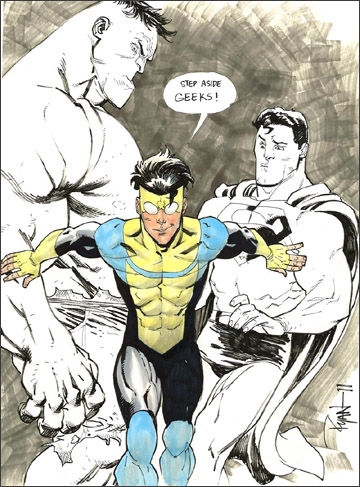 Above: Sketch by Ryan Ottley of Invincible and two "geeks."
Update:
Writer Benito Cereno confirms THE TICK MEETS INVINCIBLE:
Looks like the word is out on the next chapter in the saga of The Tick—TICK #100! Since the cat's out of the bag, here's the lineart for Les McClaine's never-before-seen cover for the special.
Above: Invincible meets the Tick by Les McClaine.
Update: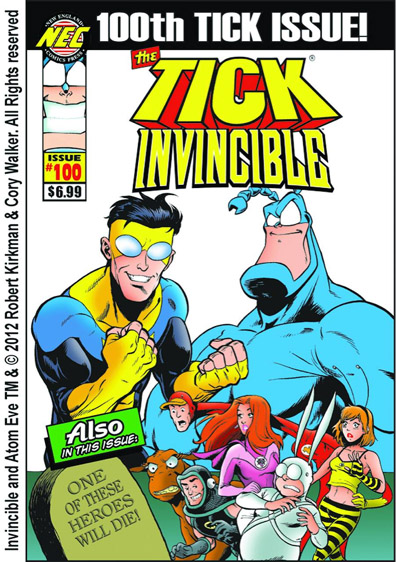 Above: Finished cover of THE TICK #100 by Les McClaine.
Labels: Comics