ZOOTANAPUSS #1: The Al Nickerson Edition...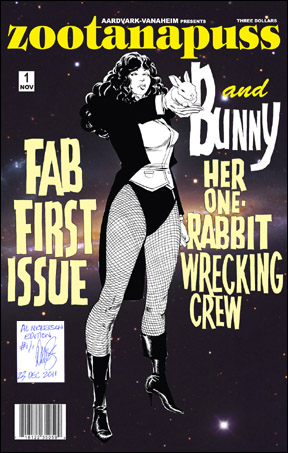 Above: Cover to Dave Sim's ZOOTANAPUSS #1. TM and © 2012 Dave Sim.
Today, my mailbox gave me a nice surprise, a signed copy of Dave Sim's ZOOTANAPUSS #1. Dave signed it with "Al Nickerson Edition #1/1." I thought that funny. As it turns out, ZOOTANAPUSS #1 is the incentive variant cover to GLAMOURPUSS #22.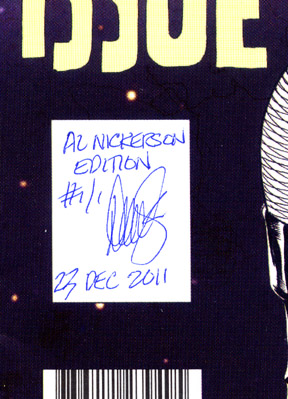 I liked Dave's mentioning of Will Eisner's definitions between "graphic narratives" and "graphic novels." I enjoyed the Frank Miller ("For Al Gore and Mother Gaia!")and Todd McFarlane ("Die, Violator Bunny!") parodies. Hee-hee.
Also, as Dave Sim mentioned somewhere else:
We have Glamourpuss 22 coming out and you'll notice that instead of it being the fourth annual swimsuit issue, it's not the fourth annual swimsuit issue and that's because I've decided to go off in a completely different direction. I'm doing a Zatanna parody, Zootanapuss.

There's also a Glamourpuss 22 incentive cover and this is probably very destructive of the comic book field, but we're all just trying to keep ourselves alive. So, for the Zootanapuss number one cover you gotta buy four of the regular ones to even get the number one cover. Now is that absolutely evil or is that absolutely evil?