Got Comics?
I don't often give comic book reviews, but I do like to mention comics that I enjoy reading, and I do like to point out stupid things that I see in comics, as well. Today, it's a little bit of both, and Spoiler Free…
INVINCIBLE may very well be the greatest comic book ever made. I know, that's quite a claim, but with each new issue, I feel this could definitely be the truth. Robert Kirkman is an amazing writer. He constantly keeps the reader guessing. I've always loved Ryan Ottley's artwork. The coloring by FCO Plascencia is the best coloring in comics (I've admired his work since GEMINI). Some major stuff happens in INVINCIBLE #63. Be warned, though, this new issue is quite bloody. As I always say, if you enjoy fun super-hero comics, then you should be reading INVINCIBLE.
I give INVINCIBLE #63 four and a half out of five NM's.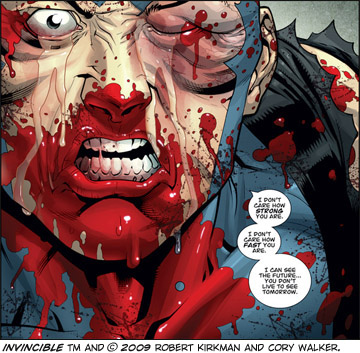 Above: Artwork from INVINCIBLE #63. What a bloody mess!
A few years back, I read, and enjoyed, the Powergirl issues that appeared in JSA CLASSIFIED #1-4. So, I figured I'd check out the new ongoing POWERGIRL series, as well. I'm not quite sure what to make of POWERGIRL #2. Amanda Conner's artwork is as solid as ever. Adam Hughes' cover is amazing (I wish I could draw like that guy). However, I wasn't crazy about the bestiality reference in the story. Whenever I think that we've made some strides in comics, some big publisher does something that bugs me. Bestiality at DC? Could be. C'mon… we're better than that.
I give POWERGIRL #2 two out of five NM's.
Above: Artwork from POWERGIRL #2. Powergirl beats down a "crazy monkey guy."